The first submission for hemp to become an approved animal feed ingredient in the US has been put forward for consideration by the Association of American Feed Control Officials and the US Food and Drug Association – Center for Veterinary Medicine (FDA-CVM). Once approved, this application will allow hemp seed meal and cake to be legally used as commercial feed for laying hens.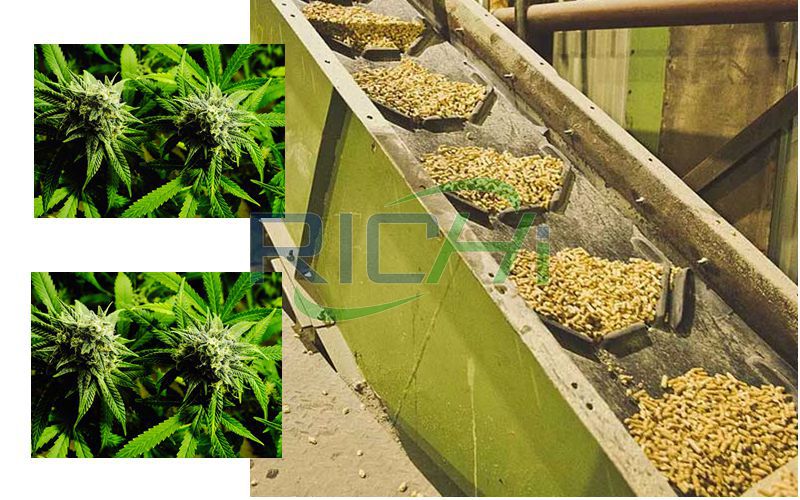 How to Use Hemp to Make Poultry Feed Pellets?
Led by the Hemp Feed Coalition leadership, hemp and feed industry experts, and researchers, this submission is a culmination of a 2-year long effort of an ingredient investigation of hemp seedcake and meal and a clinical trial to demonstrate the safety and efficacy of hemp for laying hens. Hemp seed cake and meal has, on average, about 30% protein, 10% fat, and a range of carbohydrate composition (see Table).
Table - Hemp seed cake and meal composition
| | |
| --- | --- |
| | Average |
| Crude protein | 33.50% |
| Crude fibre | 34% |
| Crude fat | 10.10% |
| Acid detergent fibre | 34.60% |
| Neutral detergent fibre | 43.60% |
| Calcium | 1584.71 ppm |
| Phosphorus | 8254.06 ppm |
| Selenium | 1.28 ppm |
| Sodium | <25 ppm |
| Lysine | 10.44 mg/g |
| Methionine | 5.48 mg/g |
This table represents data gathered from across the US by Certificates of Analysis, and compiled, analyzed and presented by the Hemp Feed Coalition. Carbohydrates are addressed as fibre components.
To meet the FDA-CVM standards of safety and efficacy, the hemp industry shared Certificates of Analysis from across the US to demonstrate hempseed cake and meal can be consistently grown and processed. This effort was combined with expertise from hemp and feed industry leaders, research, and the support of IND HEMP to bring the submission to the FDA-CVM for scientific review.
Buffington notes that hemp processing is on schedule to meet the growing demand in the US, which means more by-products that can become animal feed ingredients. Volumes, he says, are still moderate. "We are working on the first step of being able to feed the hens hemp as a legal feed. When you consider that not all states are cultivating hemp and the states that began as soon as legally possible will be harvesting hemp for the 6th time in 2021, we have a lot of room to grow capacity."
Richi Machinery's Hemp Pellet Production Line Project Exported to the United States
United States 10-12 T/H CE ISO Approved Automatic Hemp Pellet Production Processing Line
Name: Hemp Pellet Production Processing Line
Country: United States
Capacity: 11-12 T/H
Date: 2019
Installation cycle: 40 Days
Pellet Size: 3-8 mm
The customer's main raw material is 100% hemp, and the customized 10-12 T/H hemp pellet production processing line is mainly used to produce chicken feed, cattle feed and sheep feed. This set of hemp pellet production line equipment has CE ISO certification and reliable quality. Fully automatic computer control, lower labor cost. The sizes of particles produced are 3mm, 4mm, 5mm, 6mm, 8mm. The customer's equipment has been successfully installed.