With the increasing modernization of agriculture, poultry sector has become more extensive. In this respect, feeding of poultry has also improved. The modern feeds used for the poultry group are predominantly grains like barley, wheat and rye; oilseed pulp like sunflower seeds, cotton seeds, soybean, peanut and hazelnut pulp; proteins of animal origin such as fish, meat-bone and blood flour and energy sources and vitamins, minerals, premixes from vegetable oils and medicinal additive. The amount of feed and nutritional content may vary depending on the weight and age of the poultry.
Richi Machinery is a well-known Chinese manufacturer of feed pellet machinery and equipment, which can produce poultry feed, ruminant feed, aquatic feed and other animal feeds. Feeds used in animal husbandry are generally divided into two groups: roughage and mixed feed. Our main focus will be on the mixed feeds obtained by processing grains. These feeds are important in the sheep and cattle nutrition and aquaculture groups; besides, they constitute the Basic nutritional needs in the poultry group. Poultry feed production is inseparable from the poultry feed pellet machine. For the model, output and power of the feed pellet machine, please refer to the following feed pellet machine parameter table.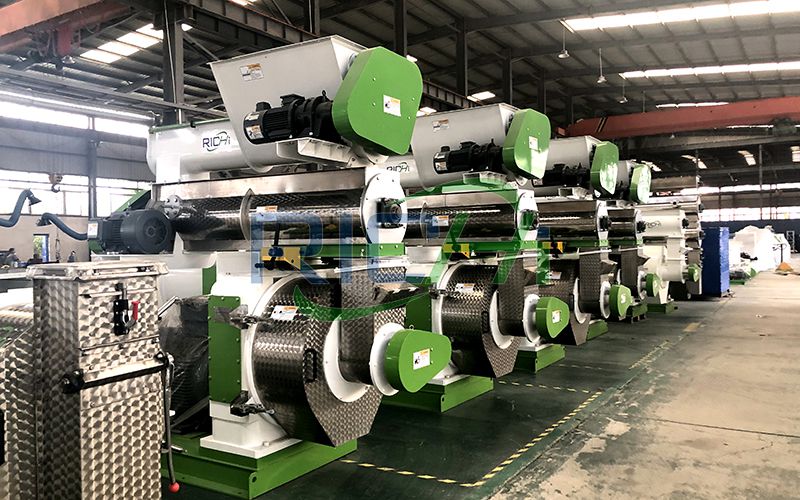 Poultry Feed Pellet Making Machine
| | | | | | | |
| --- | --- | --- | --- | --- | --- | --- |
| Model | Capacity(TPH) | Main Motor Power(kw) | Feeder Motor Power(kw) | Conditioner Power(kw) | Dia.of Ring Die(mm) | Final Pellet(mm) |
| SZLH250 | 1-2 | 22 | 0.75 | 1.5 | 250 | 2~12 |
| SZLH320 | 3-4 | 37 | 1.5 | 2.2 | 320 | 2~12 |
| SZLH350 | 5-7 | 55 | 1.5 | 3 | 350 | 2~12 |
| SZLH420 | 8-12 | 110 | 1.5 | 7.5 | 420 | 2~12 |
| SZLH508 | 10-18 | 160 | 2.2 | 11 | 508 | 2~12 |
| SZLH558 | 15-25 | 180/200 | 2.2 | 11 | 558 | 2~12 |
| SZLH558D | 14-22 | 160/180/200 | 1.5 | 7.5 | 558 | 2~18 |
| SZLH678 | 20-30 | 220/250 | 2.2 | 11 | 678 | 2~12 |
| SZLH678D | 15-25 | 200/220/250 | 2.2 | 11 | 673 | 2~18 |
| SZLH768 | 25-40 | 280/315 | 2.2 | 11 | 768 | 2~12 |
| SLZH858 | 25-42 | 280/315 | 2.2 | 15 | 858 | 2~18 |
Poultry Feed Industry in Ghana
According to the Ministry of Food and Agriculture, the consumption of poultry currently exceeds domestic production in Ghana by more than 340,000 tonnes. Poultry feed in Ghana comprises mainly maize, soya beans and fish meal. A study by the Netherlands Enterprise Agency has found that input costs in the production of poultry feed are seven times the cost of labour and four to five times the cost of utilities and transport.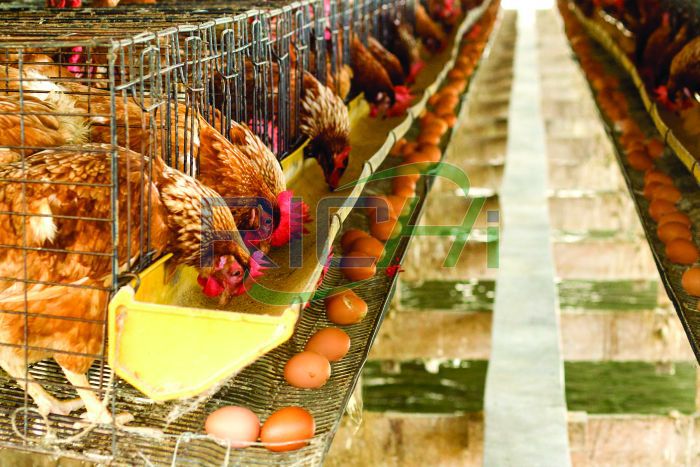 The feed price is important, because the cost of feed in the poultry industry is prohibitive. In May 2020, the Agricultural Development Bank (ADB) in Ghana set aside approximately $86 million for investment loans for the country's poultry industry. Local poultry breeding companies are allowed to reduce feed costs by purchasing poultry feed pelleting equipment to produce feed, and of course investors are encouraged to invest in the poultry feed pellet industry.
(1) Raw Material Crushing Section:
The feed hammer mill can grind the raw material ingredients to the required size. The grind fitness is different of different grinders. We supply four types of feed grinders. The hammer mills are suitable for small-sized or medium-sized feed pelletizing plants. The wide chamber fine grinders and water drop hammer mills are usually used in large-sized and medium-sized feed pelletizing factories. The ultra fine feed grinder is designed for grinding raw materials of special aquatic feed.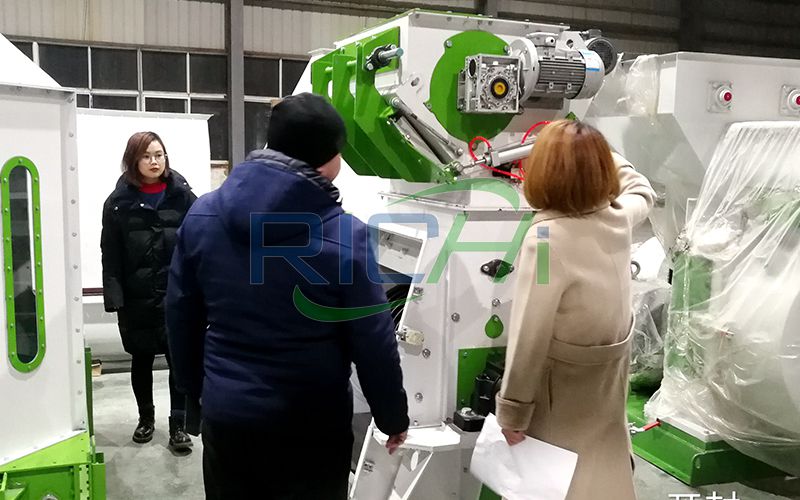 (2) Feed Material Mixing Section:
Mixing is considered to be one of the essential operations in feed pellet processing. Lack of proper mixing may lead to reduced diet uniformity, affecting the feed pellet quality. We supply two kinds of high efficiency feed mixers: twin-shaft mixer for mixing powdered or particle materials and screw belt mixer for mixing powdered materials. Both of them can be equipped with atomizing spraying system to add needed liquids, which can improve the feed pellet quality.
(3) Feed Pelletizing Section:
Feed pellet mill is the main equipment of the whole production line. There are two common kind of feed pellet mills: ring die feed pellet mill and flat die feed pellet mill. If you want to produce feed pellets with large quantity, the ring die feed pellet machine is the ideal choice. If your demanded quantity is small, you can choose the flat die feed pellet mill. Also, we supply the aquatic feed pellet mill for pressing fish feed pellets and shrimp feed pellets etc. If you have more question about customized feed pellet production requirement, please feel free toleave message or send email for more support.
(4) Feed Pellet Cooling Section:
The feed pellets pressed out by the feed pellet mill are hot and moist. They can't be crushed, screened or packed immediately. Counterflow feed pellet cooler is designed to cool or dry the feed pellets. It can decrease the temperature and moisture of the feed pellets, preparing for the following Sectiones.
(5) Feed Pellet Crushing Section:
Different poultry, livestock or aquatic feed pellets are with different sizes. Some big ones should be crushed into small ones. Roll type feed pellet crumbler is just the equipment for feed pellet crushing. Double-roll feed pellet crumbler is suitable for crushing poultry feed, such as chicken feed, duck feed and goose feed etc. Three-roll feed pellet crumbler is suitable to crush aquatic feed including fish feed and shrimp feed etc.
(6) Feed Pellet Screening and Grading Section:
The crushed feed pellets are with different sizes, and there may be some powder. Therotary grading sieve can be used to screen and grade the feed pellets. After processing, you can get the qualified feed pellets without fine powder.
(7) Feed Pellet Packing Section:
The feed pellets should be packed for transporting, storing or selling. Automatic weighing and packing machine can weigh and pack the pellets automatically with high accuracy.
(8) Automatic PLC Control System:
With the automatic PLC control system, the production line is with high efficiency and convenient operation.
Advantages of Poultry Feed Pellets
Establish a complete poultry feed pellet production line, can improve work efficiency, reduce feed costs, for users to increase profits. It can not only suppress poultry feed, but also can process cattle, sheep, pig and other feed pellets. When making your own feed particles, different materials can be added according to the different needs of animals to ensure the safety of feed and the comprehensive nutrition of animals. Feeding granulated feed can increase poultry intake and avoid poultry pickiness, which is conducive to digestion and absorption. It can shorten the growth period of poultrys, easy to transport, and can be kept for half a year.