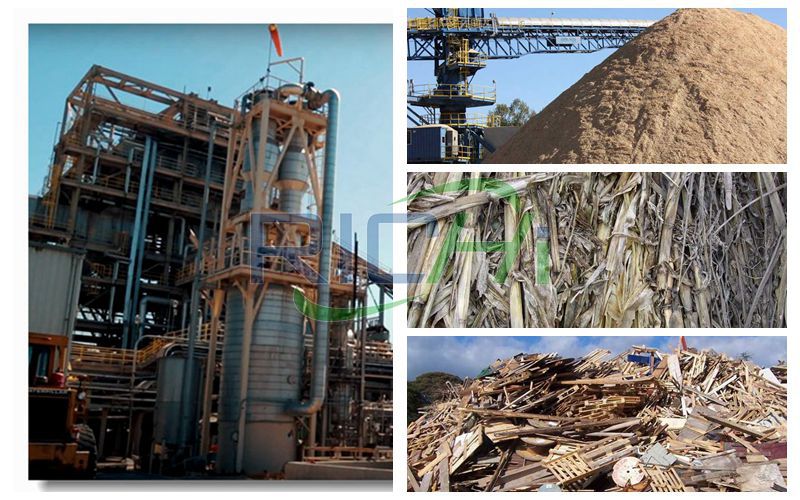 Biomass Wood Pellet Fuel Production Line Project
We know that furniture factories generate a lot of waste every year, such as sawdust, shavings, bamboo shavings, small wood chips, small wood blocks, waste wood and so on. The project is to use residues and wastes from furniture factories, as well as crop stalks, various nut shells, and discarded wooden pallets as raw materials to produce biomass fuel pellets through wood pelletizing equipment. The project is an environmental protection project. The biomass pellet fuel produced by reusing waste has a high calorific value, is clean and pollution-free, and is a high-tech environmentally friendly product that replaces fossil energy. The total construction area of the project is 5,300 square meters. Equipped with raw material storage room, wood crushing room, drying room, particle forming warehouse, office building, canteen, etc. The project has 10 employees, working 300 days a year and producing 10,000 tons of biomass pellets annually.
1. Raw materials
Table 1 List of raw material consumption
Serial number
name
Dosage
source
1
Water (m3/a)
1207
Hetang Village Water Supply Network
2
Electricity (degrees/year)
2800000
Hetang Village Power Supply Network
3
Furniture factory scrap material to saw wood shavings, agricultural
root crops, stems, leaves, hulls, wood waste etc.
20 thousand t/a
Outsourcing
4
Biomass pellet fuel
200t/a
Products produced by this project
2. Production equipment
The main equipment of the project is detailed in the table below
Table 2 List of main equipment of the project
| | | | | |
| --- | --- | --- | --- | --- |
| Serial number | Equipment name | model | unit | Quantity |
| 01 | Crusher | 218 | station | 1 |
| 02 | grinder | S90 | station | 1 |
| 03 | Dryer (1.2m×12m) | | station | 1 |
| 04 | Drying furnace (biomass furnace) | | station | 1 |
| 05 | Biomass pellet machine | | station | 3 |
| 06 | Forklift | 930 | station | 3 |
3. Production Process
(1) The project purchases furniture factory scraps, wood chips, bamboo chips, branches, tobacco rods, roots, stems, leaves, shells, and waste wood of agricultural crops as raw materials.
(2) The raw materials are sieved after being crushed by coarse and fine crushers.
(3) Due to the high moisture content in the raw materials, the moisture content of the raw materials is 35%, which cannot meet the feeding conditions of the biomass pellet machine. The materials need to be dried, and the moisture content after drying is required to be 15%. The pulverized raw materials are then burned with biomass fuel through a dryer, and the biomass pellet fuel enters the high-temperature combustion chamber through the automatic feeding system, where high-temperature combustion occurs rapidly in the high-temperature combustion chamber to generate high temperatures.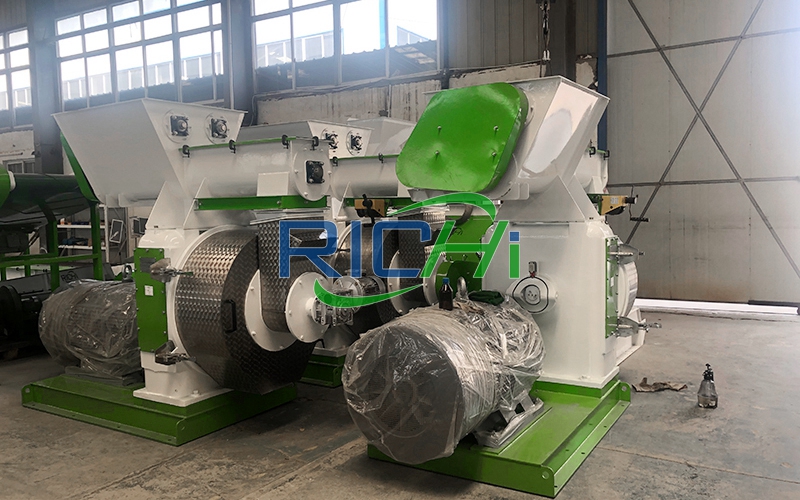 biomass pellet machine
(4) After drying, the material is conveyed to the biomass pellet machine by a conveyor belt, and the pellet machine is fed by its own feeding equipment. The biomass raw material is sent to the feeding chamber of the pellet machine, which acts together with the distributor and the scraper. Spread the material evenly on the flat mold, and then squeeze the material into the die hole. The material undergoes forming and shape retention processes in the die hole. Due to the increase in pressure in the molding machine, the particles themselves deform and plastically flow, and generate a lot of heat under the action of friction, which causes the lignin contained in the raw materials to soften, increase the adhesion, and the softened lignin and the inherent in biomass The combined action of cellulose makes the biomass gradually shape, and after a certain period of time, it is extruded in a cylindrical shape. The rotating cutter cuts the material to form a cylindrical shape and sends it out through the discharge port. In this project, no binder is added during the compression molding process.
(5) After molding, the pellets are cooled in the cooling chamber and then packaged. The packaging stage mainly produces packaging waste and unqualified products.
(6) The finished product is shipped out after packaging.
4. Project Overview
Table 3 List of project area
category
name
Engineering Amount


structural work
Crushing and crushing workshop
1F, semi-enclosed steel structure, building area 2000m2
Drying workshop
1F, semi-enclosed steel structure, construction area 1200m2
Granule forming and warehouse
1F, semi-enclosed steel structure, building area 1000m2
Raw material storage place
1 storey, semi-enclosed steel structure, building area 600m2

Auxiliary engineering
Staff dormitory and canteen
2F, brick-concrete structure, building area 300m2
office
1F, brick-concrete structure, building area 200m2
Name: 10 Tons/Hour Biomass Wood Pellet Making Line
Country: United States
Capacity: 10 T/H
Date: November 2020
Installation cycle: 60 Days
Pellet Size: 6-8mm
This project is a high capacity fully automatic 10 tons/hour biomass wood pellet production making line. The customer's main production raw material is some waste wood, and contains iron nails and other impurities. Therefore, if wood pellets are to be manufactured, they must be sliced ​​and crushed first, and then crushed again with a wood pellet mill to meet the granulation requirements. The core equipment of this set of equipment is 3 sets of MZLH768 circular wood pelletizer pelletizers, each with an hourly output of about 2.5-4 tons and a power of 250kw.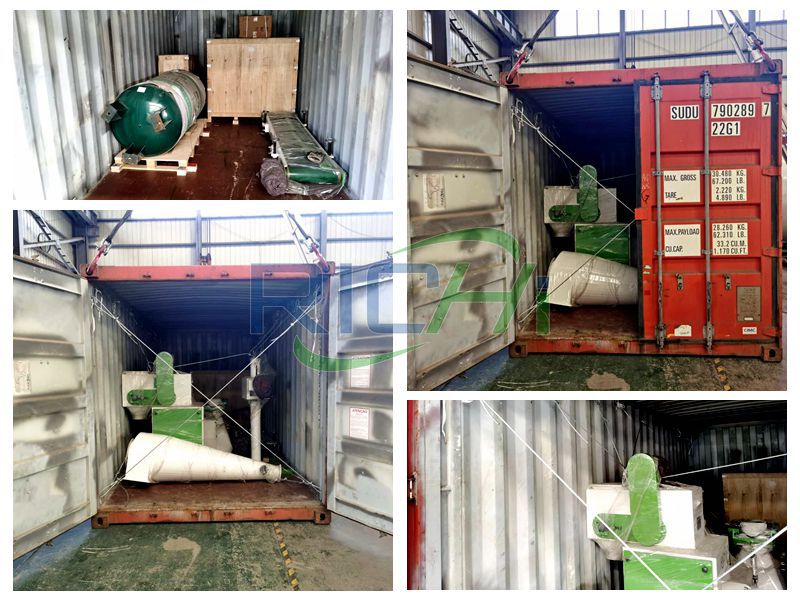 United States10 Tons/Hour Biomass Wood Pellet Making Line equipment shipped