On September 18, 2020, the German customer paid a 40% advance payment to RICHI Machinery to order a high-quality and low-cost wood pellet production line of 2-2.5 t/h. We know that Germans have always been more rigorous, and this German customer is no exception. Before cooperating with Richi Machinery, he also compared 8-10 wood pellet machinery and equipment manufacturers. After comparing the production capacity, product performance, after-sales service, technical level and other dimensions of each manufacturer, he finally chose to work with Richi Machinery, because Richi has specialized in the production of wood pellet machinery and equipment for nearly 30 years. The export countries of pellet equipment are as high as 113, and there are new countries every year.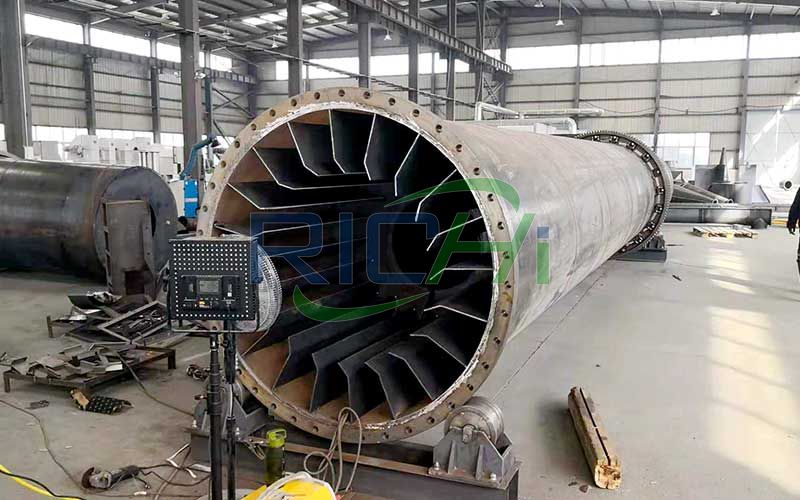 German customer dryer production
2-2.5 T/h Wood Pellet Production Line Step Process
1.Material Preparation
Sawdust can be made from wood logs, wood shavings, and forestry waste or biomass straw, straw, etc. Wood chipper is mainly to crush the wood logs into wood chips, and the crusher is mainly to crush the wood chips into sawdust.
2. Sawdust Drying Process
The perfect raw material moisture before pelletizing is 11%-17%, so before the pelletizing, the sawdust needs drying machine to meet the moisture standard. Because the output of the wood pellet production line is 2-2.5 t/h. In order to save the cost, we have 3 layer rotary dryer, that is the sawdust drying route is 3 times than one layer dryer, so the drying efficiency is improved obviously. In this way, the moisture will dry off 40%!
3. Wood Pelletizing Process
The pelletizer is an important part of the sawdust pellet production line with reliable and stable performance. Because the output of the wood pellet plant is 2-2.5 t/h, we choose the ring die pellet machine with large output and stable performance.
4. Wood Cooling Process
After pelletizing, the pellet temperature will be within 60-80℃,the moisture is close to 15%. So it needs the cooler to lower the temperature and the moisture. After this process, the pellets will be suitable for longtime storing.
5. Auto Packing Process
The packaging process will keep the wood pellets from moisture. Our automatic wood chip weighing and packing system adopt PLC control system, it's high weighing accuracy, easy operation.