High quality imported bearings and oil seals are selected in the transmission part of the whole machine to ensure high efficiency, stability and low noise.
level has novel structure, compact, safe and low fault performance.
The main drive adopts high-precision gear transmission, and the ring die adopts quick-release hoop type. The output is about 20% higher than the belt drive type.
Increase efficiency and high output. High degree of automation, strong applicability. The cutter assembly can control the pellet length.
The variable frequency feeding system adopts the electromagnetic valve speed control, which is convenient for speed adjustment and uniform feeding.
The Feeder and ring die, the feeding chute adopt stainless steel material,structural durability.
The host drive with high precision gear drive,the ring die adopt anchorear type and disassembly is convenient.
User-friendly operation , Auto-lubrication system(optional)and die & roller lifting device,energy saving;on-site control.
The optimized pelletizing chamber structure ensures the that the pressing material is evenly divided and maximizes the working potential of the pelletizer.
Security,has a strong magnetic magnet and overload protection device such as a safe,safe and reliable.
For CE Feeder can let the light raw material to better enter into the pelletizing chamber, and make the pelletizing proCEss normal working
Frequency conversion feeding can be used to effectively prevent the uneven feeding caused by voltage instability.
2020 Sunflower Seed Market Analysis
Sunflower is a large herbaceous plant of composite that has a relatively short growth cycle, strong drought resistance, and strong adaptability to the soil environment. As sunflower seeds are an important raw food material, they are widely planted all over the world. Currently, sunflowers are cultivated on 26.2 million hectares worldwide, especially in Russia, Ukraine, Argentina, and China, where the annual output exceeds 700,000 tons.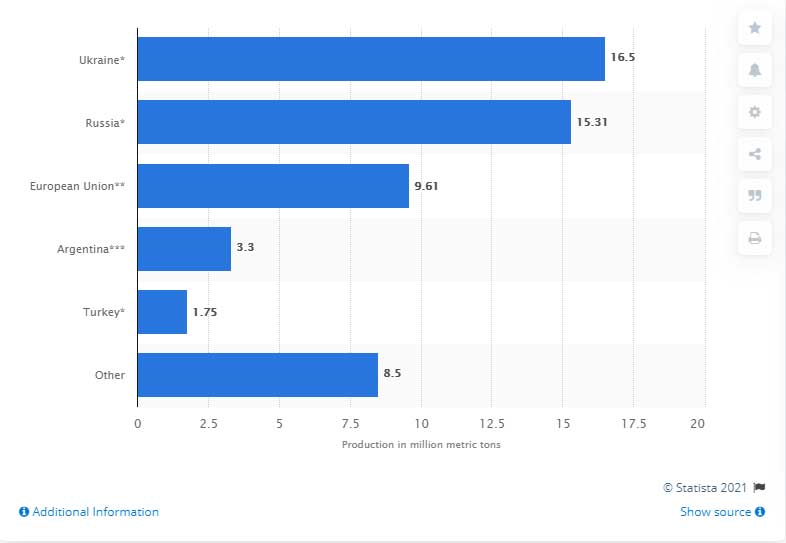 2020 Sunflower Seed Market Analysis
Ukraine had the highest production volume of sunflower seeds of any country in the world in the 2019/2020 crop year. During that time period, Ukraine produced around 16.5 million metric tons of sunflower seeds. Russia is also a major producer of sunflower seeds worldwide, with a production volume of 15.3 million metric tons in 2019/2020.
Advantages of Sunflower Seed Shell Pellet
High calorific value and cost-effective: the calorific value of sunflower seed shell pellets is 4.3-4.5 kW/kg, which is similar to coal, and is 1.6 times more than wood, which is cost-effective regarding its much lower price.
Clean and easy to use: pellets are relatively cleaner and safer compared to coal. They do not release air polluting gases as sulfur oxide. Also, the transportation and storage of sunflower seed shell pellets are easy.
Renewable: different from fossil fuels such as coal and natural gas which is expendable (formed in a very long time), sunflower seed shell pellets are renewable, because plants grow every year, and we can have endless supply of sunflower seed shell materials.
High efficient: in current time, the pellet burning system is more advanced than before with high efficiency and minimal emission.
Independent: the price of coal, oil and gas are controlled by the government, especially in these days when fossil fuels are decreasing, no one can assure the stability of their prices. However, the cost of pellets can be controlled by us.
Environmentally friendly: sunflower seed shell pellets are carbon neutral, which means they only emit the amount of CO2 they absorbed during growth. They do not release other air polluting gases into the air.
Uses for Sunflower Seed Shells
Animal Feed
Sunflower seed shells provide roughage in feed for ruminants, including cattle and sheep. The hulls are comprised of ash, crude protein, lipid material, reducing sugars and carbohydrates. Although low in protein and nutritional value, the high fiber and carbohydrate content of the hulls make them well-suited for animal feed when mixed with ingredients with higher nutritional value. The hulls absorb liquid ingredients in feed and serve as a filler ingredient. Hulls must be finely ground in the feed for easier digestion.
Fuel Pellet
With a heat value of 19.2 megajoules per kilogram, sunflower seed shells are commonly used as a fuel source. The sunflower seed husk, sunflower meal, sunflower plate, sunflower stalk or other waste wood can be pressed into fuel pellets, which is good for storage and transportation.. Renewable resources, such as sunflower hulls, have less impact on the environment than burning wood logs and are generally more affordable than heating with fossil fuels.
Gardening
Sunflower seed shells are allelopathic, which means that they produce a chemical that inhibits the growth of other plants. This property makes sunflower seed shells well-suited for use as mulch in gardens and flower beds because of their ability to suppress weeds.This same property, however, means that sunflower seed shells are not proper candidates for a compost pile. Organic matter in compost piles should break down to support plant growth rather than inhibit growth.
Construction
Sunflower seed shells have made their way into the construction trade in the form of Dakota Burl, a natural-fiber wood paneling made from discarded sunflower shells. The wood panels feature a swirled mixture of light and dark colors -- the same colors commonly found in a sunflower shell. The wood presents an environmentally friendly alternative to other wood products because the shells are renewable, recycled waste products instead of wood produced from ancient, harvested trees.